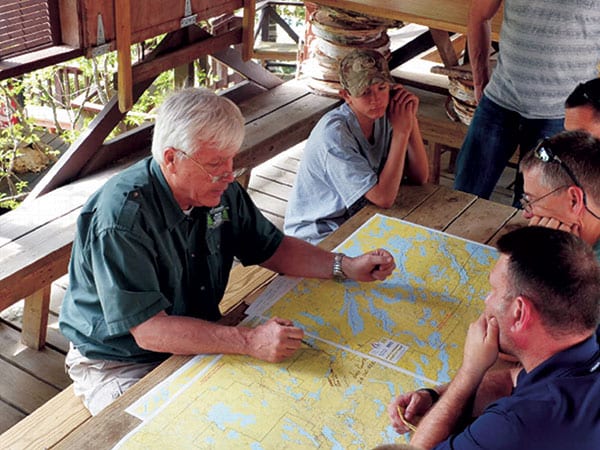 Planning Your Canoe Trip to the BWCA or Quetico
We take our commitment of providing the most professional outfitting services seriously. Leaving nothing to chance, we provide an in-depth experience and interests questionnaire as part of your reservation form. Your individual trip requirements, such as reasons for vacationing in the canoe country, number of travel days, ability level of your party, etc. are then matched by us to the areas in the BWCA and Quetico Park that will best meet your vacation goals.
Upon your arrival, we will discuss these areas with you, so you can make the final decision on which lakes most appeal to your party. While routing your trip on large-scale waterproof maps by WA Fisher Company, we add our personal comments on the best campsites, portages, and fishing areas, as well as updated information on the area in general. We suggest you wait until the routing session to purchase your maps. (NOTE: we do not "trade" if you purchase maps you do not need and we do not route trips on McKenzie
[brand] Maps.)
Whether your interests are that of the camper, canoeist, naturalist, historian, photographer or angler, you can be assured that you will be fully prepared for your memorable north country experience.
Check out our complete outfitting packages.
First-time on a canoe trip.  Listen to their testimonial.