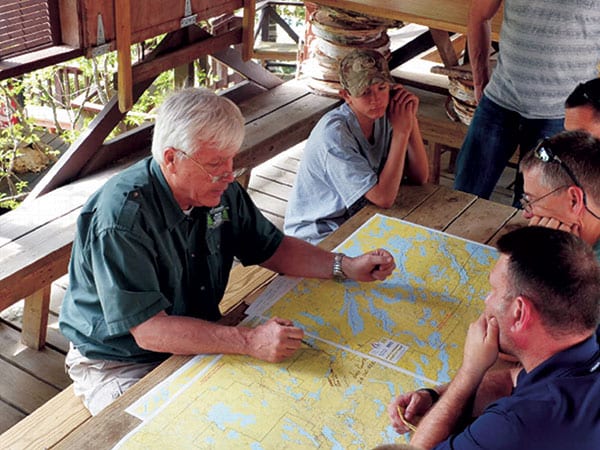 Planning Your Canoe Trip to the BWCA or Quetico
We take our commitment of providing the most professional outfitting services seriously. Leaving nothing to chance, we provide an in-depth experience and interests questionnaire as part of your reservation form. Your individual trip requirements, such as reasons for vacationing in the canoe country, number of travel days, ability level of your party, etc. are then matched by us to the areas in the BWCA and Quetico Park that will best meet your vacation goals.
Upon your arrival, we will discuss these areas with you, so you can make the final decision on which lakes most appeal to your party. While routing your trip on large-scale waterproof maps by WA Fisher Company, we add our personal comments on the best campsites, portages, and fishing areas, as well as updated information on the area in general. We suggest you wait until the routing session to purchase your maps. (NOTE: we do not "trade" if you purchase maps you do not need and we do not route trips on McKenzie brand maps.
Whether your interests are that of the camper, canoeist, naturalist, historian, photographer or angler, you can be assured that you will be fully prepared for your memorable north country experience.
When to Come to the BWCA
MID-MAY is Spring Time in the Boundary Waters. For the early paddlers, wildlife abounds. "Mama Moose" will have her toddler(s) out in the shallows. Our loons will have returned from Georgia and starting to nest. Beavers will start repairing their dams, and building lodges. With the snow melt runoff at its peak, water levels are higher than normal and waterfalls are running hard. The latter half of the month is quiet, but attracts people wanting to fish walleye and northerns. The best of our fishing season is from the opening of fishing through June.
JUNE is when the our earliest wild flowers start to bloom, including wild iris and the pink lady slipper orchid. If you intend to go swimming, however, during the first half of the month the lake water is still cold, and you will have to be a very hardy soul to take a dip. But, that's also why June is the best over-all month for fishing the crystal clear waters of the north country. Following walleye by two to three weeks, smallmouth come into their peak.
It seems a favorite pass-time for nationwide campers and canoeists is to come up with jokes about "bugs" in Minnesota. We would say the internet truth vetting sites would declare these only partially true. Our mosquitos and no-see-ums are dependent on rain and warm weather. If May is cool and dry, we have very little in the way of June bugs. Even if they are out in force, selecting the right campsites is the cure-all. Showing you which ones are best is part of why you are hiring us. Get ready to break out the sun screen but don't worry about sizzling.
JULY normally has very pleasant weather … perfect for a canoe trip. Evenings are long, and lazy: the kind where you'd want to have a campfire after a full day of canoeing, fishing, swimming, and exploring. If you can stay awake long enough after a full day, you may be treated to one of natures most beautiful sights: the northern lights. Summer wild flowers are in full bloom. Depending whether you are early-, mid-, or late- month paddlers, you can find wild strawberries, raspberries, or our signature north country blueberries.
Loons and eagles are regular daily sights. Moose and deer are occasionally spotted. At night, keep an ear open for the lonely howl from the timber wolves. July is best for stable weather patterns and better than June for those paddlers wanting to avoid most of spring time-frame bugs. Because this is the most popular month, more canoe trippers will be seen during the day. It's best to get an early start on travel days, and pick a great campsite shortly after lunch.
EARLY AUGUST is historically the most popular time (and therefore the most heavily traveled) in the Boundary Waters. However, visitor numbers wind down quickly as the month progresses week by week. As summer gently slides through August, the days will shorten significantly from June, but being this far north, they are still plenty long. The lakes reach their warmest temperatures of the year during the first week, making them perfect for swimming.
The weather is generally stable, until the very end of the month when the winds begin to pick up a little and the weather systems begin to move through our area more quickly. Air temperatures are just a tad cooler than July, still in the range of the 50's to upper 70's. The mosquito population drops rapidly throughout the summer and, by mid-August, are usually virtually gone. As the lakes cool later in the month, fishing success starts to climb back up making the comfortable days a real magnet for late summer fishermen.
Boundary Waters or Quetico Park?
The canoe country is 2,300,000 acres of protected wildereness, cut almost exactly in half by the international border between the United States and Canada. Both the Boundary Waters Canoe Area Wilderness (on the American side) and Quetico Provincial Park (on the Canadian side) offer breath-taking beauty. Waterfalls, sheer rock cliffs and deep crystal clear lakes abound. Moose, deer, beaver and otter are just a few of the animals you may encounter during your canoe trip. Eagles, loons, and ducks fill the woods and waterways with their enchanting songs and calls. Smallmouth bass, northern pike, walleye and lake trout are abundant throughout both of the wilderness areas. With "canoe only" access, fishing in both the BWCA and the Quetico is far superior to easy access/ "motorized use" lakes. How, then, should you decide which area you should visit for your canoe trip?
Boundary Waters (Minnesota side):
There is a per person user fee per trip: US$16.
Must camp at one of the 2352 designated camp sites.
Each site has a steel fire grate and a latrine.
Maximum of 9 people and/or 4 canoes together at any time.
Entry lake campsites tend to be taken early in the day.
Quetico Park (Ontario side):
There is a per person user fee per night: CN$ 21.
May camp anywhere, but no vegetation may be cut.
There are no fire grates or latrines.
Maximum of 9 people together at any time.
RABC permit needed for entry into Canada.
Passport needed for return to USA.
How Much Travel versus How Many Campsites?
Just one for the whole trip? A new campsite every night? A couple nights here and a couple there? Remember that setting up and taking down camp is a time-consuming process. When spending multiple two or three nights at the same campsite you are able to canoe out on day trips to explore and fish and then return later in the day to a camp that is already set up. In general, on a shorter trip, use just one base camp. On longer trips, we suggest traveling to a new site every other day, or two travel days and then a layover. But, it is totally YOUR call … it's YOUR trip.
A Common Misconception: Being Able to "Do the Boundary Waters" on a Two-Night Trip
According to research published in the Journal of Happiness Studies, a vacationer will feel an increase of happiness over the first several days of vacation, with that feeling peaking on the eighth day. It often takes the two or three days just to adjust your mind-set away from your every day life. Moreover, a longer trip gives travelers enough time to get their bearings, and settle into a new, more relaxed routine. After the eighth day, those positive vibes and wellness benefits start to taper off, according to the researchers' findings.
Of course, vacation time is always at a premium, and it can be tough to fit everything into busy schedules. Though a Boundary Waters experience is worth it even if you're short on time, we recommend at least a five days, but better is a six to eight day trip if you're able to get away for that amount of time. After a couple days out on the canoe trails, people tend to connect more with the natural world around them. They get more out of the trip. Of our many repeat parties, the longer their first trip was, the more likely it was they would return. They just had a better first experience.
Most paddlers equate a quality wilderness experience with solitude. Getting away from the initial starting, or entry, point plays a huge part in that. Whether the daily quota is high or low, there are usually quality routes. Entry points should be thought of as the small end of a funnel. Each day a limited number of parties may enter through that "funnel". The farther out they travel, the fewer other parties they will encounter. At the end of the trip, the reverse is true. Each night, the lakes that are within a day of the entry point see the highest concentrations of campsite use. On a two night trip, you will always be within one day's travel from an entry / exit point.
The middle nights of your trip will form the core of your experience. The farther out you intend to travel, the better we can key in on your specific goals … and the fewer people you will see.
If two / three / or four nights is what your schedule will allow, try to come earlier or later in the summer. But regardless of when you come, or how long you have, we will use our four decades of expertise to customize and maximize your wilderness experience.