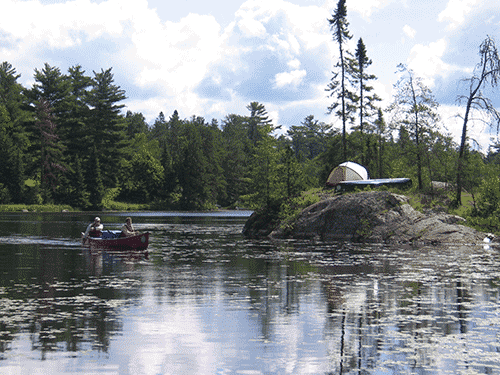 Your trip through the wilderness will only be as good — or as bad — as the route you travel. There is no one route that is best, and there is no one entry point that is best. BWCA Routes can change a great deal over the course of a summer.
Considerations in picking a route
Your personal preferences on the number of times you would like to change campsites play a major consideration. A party wanting to be out for five days and have four campsites would obviously travel farther than one want to be out seven days, but only want two campsites.
From mid-May thru early June, some portages may be muddy.
In August, some of the smaller rivers drop to a point where whole sections might have to be walked because there isn't enough water to float a loaded canoe.
Some lakes have different kinds of fish than others.
The bug situation of June and July varies from one section to another.
Forest fires are a natural part of the wilderness ecosystem. However, it takes a season or two for an area to start to green-up after a fire. Blackened areas might want to be avoided.
Some areas may have bans on open fires. North Country provides stoves with our complete outfitting, so cooking would not be impacted. But as for the evening campfire … the answer would be NO. If having an evening campfire is important to your party, picking another area would probably be wise.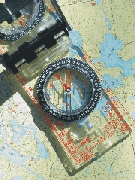 We know what those differences are, and are prepared to offer our suggestions so your trip can match your expectations.
The ability level of your party as a whole must be considered. If your participants have had a lot of time in canoes prior to arriving in Ely, they will travel farther each day than a group who has only had canoe experience in their city park. How well does everyone work together? Can meals be cooked in 15-20 minutes, or is it an all evening chore?
Obviously, a group that has only five days to spend in the woods will not have the same route as one having 7-10 days. We want to know how many campsites you will want to be in. On a 6 day/5 night trip you can have as many as five different sites, or you may choose travel every other day using 3 sites, or even set up a base camp and take day-trips from your one location.
Remember, every time you take down and set up another campsite, you are pulling about three hours of your day that you could have been doing something else. Also, on day trips you can travel farther and faster since you are not taking equipment across the portages.
Long-time NCCO Customers Scott & Nicole Sims talk about their experience: