Listen as Jeff & Carla share the experience of their first canoe trip. North Country Canoe Outfitters offers several canoe trip packages. Price is based on length of trip, choice of amenities and time of year. Contact us for this year's price list. North Country Canoe Outfitters handles every aspect of your trip: from planning your perfect entry point, mapping out your route, packing your canoe gear, food and necessities, picking out great lightweight equipment for you, to training you on how to use, carry, pitch, filet, cook, paddle, navigate – everything you need to know to have a successful canoe trip. Why North Country?   Here's why…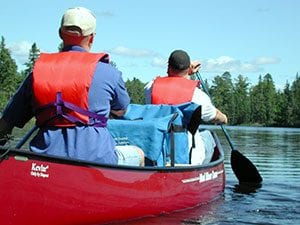 Canoe Trip Outfitting Packages
Ultra-Lightweight Silver Package – Everything you need for a comfortable trip with no hidden charges for the necessities  Compare with Gold package.
Ultra-Lightweight Gold Package – As good as our silver package is, we up the ante for the Gold with top-of-the-line high tech equipment and more amenities.  Compare with Silver Package.
Solo Trips – We're happy to outfit the single traveler
A la carte outfitting – Day rates and per item rental available
Off-Peak Trips – Early and late season discounts available.
Large Group Outfitting – We can accommodate your organization, family, or group of friends.
Youth Group Outfitting – For youth 17 and under or students under 22, such as Scouting or Church groups, we offer special packages.  See our Youth Group Outfitting page for more information.
Compare our Silver and Gold Packages
| | Ultra Lightweight Silver Package | Ultra Lightweight Gold Package |
| --- | --- | --- |
| Food | Rickmoor® and Backpacker's Pantry® foodsCertified Angus Beef® steaks (8oz cuts)  – Click to see our menu | All Silver Menu items plus upgrades to Natural High® and Harvest Foodwoorks® Certified Angus Beef® steaks (12oz cuts) – Click to see our menu |
| Canoes | Choice of Royalex laminate canoes from Old Town and Mad River or aluminum canoes by Alumacraft.  For extra space, the 18′ We-no-nah "Champlain."  Upgrade to Kevlar canoes available with Silver PLUS Package.. | Choice of Kevlar®, fiberglass, R-lite®, or Royalex® canoes from We-no-nah, Mad River, Old Town or Dagger. Special sizes for large parties, families with children available. |
| Paddles | Carlisle cycolac blade /aluminum shaft lightweight | Carlisle aluminum bent shaft/cycolac cupped blade high efficiency paddles. |
| Lifejackets | Stearns "jacket style" | Stearns fisherman "jacket style" |
| Tents | Eureka Assault outfitter model nylon tents (18% less weight than previous model) | Eureka "K-2 Extreme" expedition grade nylong tents, specially designed for climbing Mt. Everest, so lightweight and high quality. |
| Cookware | Open Country aluminum cook kit: cooking and eating utensils, filet knife, plates, cups, extra fry pan, griddle. | Select Open Country deluxe aluminum cookware including all cooking and eating utensils: filet knife, plates, cups, extra fry pan, griddle. |
| Supplies | Matches, hand and dish soap, scrub pads, toilet paper, camp saw | Matches, hand and dish soap, scrub pads, toilet paper, camp saw |
| Stove | Coleman one burner gas stove.  Fuel included. | Two Coleman "sportster" ultra-lightweight gas stoves for fast and clean cooking. Ample fuel included. |
| Sleeping Bags | Slumberjack sleeping bags with offset, double layer, hollofill II filling, available in extra-long | Everest Elite™ Qaulofil sleeping bags packed in space0saving compression packs or expedition dry bags. |
| Sleeping Pads | Therm-A-Rest air/foam sleeping pads for warmth and comfort | Full body length Term-A-Rest and Slumberjack air/foam sleeping pads for warmth and comfort. |
| Rain Protection | Rip-stop nylon rainfly for dry dining during rain | Three-sided lean-to for added protection from the weather during meal times. |
| Packs | Custom built, all-cordura nylon food, gear and personal packs. | Select nylon packs from Granite Gear, Kondos, and Camp Trails with fitted suspension systems. |
| Water | | The new SteriPEN™ Ultraviolet Light water purification high technology innovation |
| Chairs | | Crazy Creek Chairs or Chosen Valley backrests – seat backs for your canoe.  Lightweight and easy to carry. |