The Boundary Waters History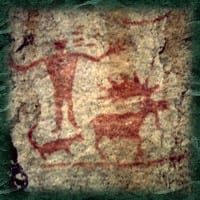 Within the BWCA are hundreds of prehistoric pictographs on rock ledges and cliffs. The BWCA is part of the historic homeland of the Ojibwe people, who traveled the waterways in canoes made of birch bark. In 1688, the French explorer Jacques de Noyon became the first European to travel through the Boundary Waters. Later during the 1730s, La Verendrye and others opened the region to trade, mainly in beaver pelts. By the end of the 18th century, the fur trade had been organized into groups of canoe-paddling Voyageurs working for the competing North West and Hudson's Bay Companies, with a North West Company fort located at Grand Portage on Lake Superior.
In the 1920s Edward Backus, a local industrialist, proposed building several dams in the region, which was successfully opposed by Ernst Oberholtzer. By 1926, the Superior Roadless Area had been designated by the U.S. Forest Service, offering some protection from mining, logging, and hydroelectric projects.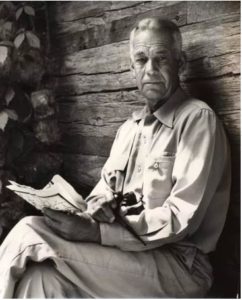 The Wilderness Act of 1964 made the BWCA legal wilderness as a unit of the National Wilderness Preservation System, while the 1978 BWCA Act established the Boundary Waters regulations much as they are today with motors allowed only on a few large entry point lakes.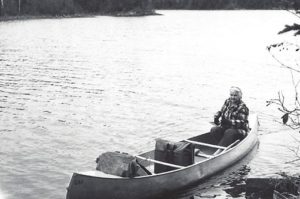 Sigurd Olson, Minnesota author and conservationist, wrote extensively about and worked to protect the Boundary Waters.
Dorothy Molter, known as the "Rootbeer Lady," lived alone in the BWCA for 56 years until her death in 1986. Several aspects of the management of the BWCA remain controversial today, including permit availability and allocation, as well as suggestions to expand the wilderness area.
The BWCA contains over a thousand lakes and attracts visitors with its reputation for canoeing, camping, fishing, and remote wilderness character. Permits are required for all overnight visits to the wilderness area. The BWCA is one of Minnesota's top tourist attractions, drawing visitors from all over the United States as well as abroad.
The BWCA has over 1000 miles (1,600 km) of canoe routes composed of lakes and rivers connected by portage trails. Canoe routes are easily chosen by connecting chains of lakes and portages into loops of any length and difficulty. As of 1999, about 75% of the BWCA's water area was reserved for non-motorized boat travel.