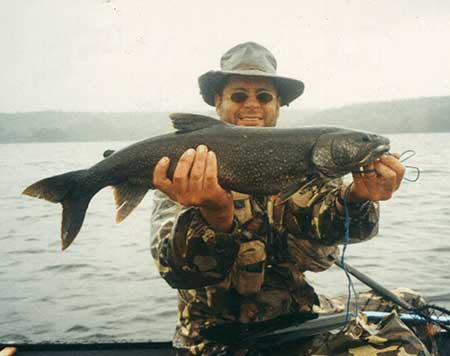 Lake Trout Fishing in the BWCA
Lake Trout inhabit cold, deep water bodies. After ice-out they start heading down into the depths.
The Ely area has some fantastic lakes for lake trout fishing. Since these fish are pretty particular about staying in cold, deep water, the 40 foot depths of White Iron Lake just do not support a home for "lakers". BUT … several easy access lakes in the area DO run to 100+ feet and DO have temperatures in the 45-55 degree range, so they can please any lake trout hunter.
In May, lake trout are in the shallows: eight to twelve feet. White color feather or hair jigs can catch their attention as they look for minnows. You can also try frozen ciscoes as bait at this time. As they start down into deeper water, we like to rig up with the same lures we use for pike, but we use a vertical jigging style instead of the cast-and-retrieve that northerns prefer.
More on fishing Walleye, Northern Pike, Smallmouth Bass, and Panfish