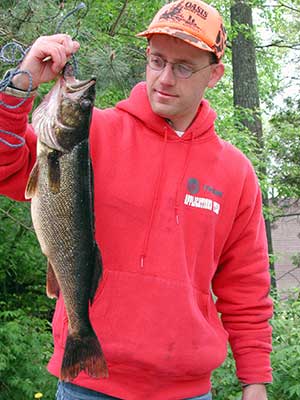 Walleye ( (sometimes incorrectly known as walleyed pike — they are in the perch family, not the pike family) are one of the finest game fish in North America. Minnesota's claim to fame stems from its reputation as walleye country. Here in the BWCA, males get up to the 2+ pound size, and females can grow to as much as 12 pounds in our cool, north country waters.
Spring Boundary Waters Walleye Fishing
Fishing begins in late spring as post-spawners concentrate at river holes, river mouths, inlets, rocky shorelines, sandbars, shallow reefs, sunken islands, and emerging weedbeds. Using jigs weighing 1/16- to 3/8-ounce, dressed with soft-plastic twister-tail or shad bodies, marabou feathers or bucktail, is one of the easiest and must effective ways to fish. Hungry walleye dispersing from spawning areas seldom refuse a jig, especially when it is tipped with a minnow or a worm. Vertical jig or cast towards rocky shorelines, shoals, and weedlines. In stained lakes, chartreuse, lime green, yellow, pink, and white are effective jig colors. When adding bait, use a stinger hook to catch walleye that strike short. In spring, a favorite spot of ours is to fish above and below gentle rapids. Use a jig and leech, or dead-slow with a minnow like lure such as a small Rappala or Mepps' Aglia Minnow spinner. In fact, if you fish the current below a rapids, don't retrieve at all, just lift the rod tip slowly and move it from side to side … the current will supply all the necessary action.
Walleye like it cool and windy
While northerns and bass can be taken readily through most of the summer, walleye are at their peak in May and early June. They simply get hard to find during late July and early August when the lakes are at their warmest temperature levels. If, however, you stumble over a spring hole, or fish below fast moving rapids or waterfalls, you can surprise other fishermen with your stringer full of "marble eyes". Spring tactics and baits still take them, but are usually fished deeper, so heavier jigs, rigs, and deep diving lures are called for. Though the lakes which make up the Boundary Waters and Quetico Park offer varied structure, walleye really turn on in windy conditions that draw active walleyes into the shallows to feed. One method of fishing shallow reefs is to suspend leeches, worms, or minnows on a single hook beneath a slip-bobber. Approach from the upwind side of the structure or shoreline. If the wind is strong enough that you'll probably drift across your spot, one paddler should back-paddle while the other fishes.
Where to Find Boundary Waters Walleye
On most days, when the wind is not blowing hard, however, the more classic walleye patterns prevail. Fish the tips of points, edges of dropoffs to deep water, and the perimeters of mid-lake humps ("sunken islands"). Here we recommend vertical jigging tactics with leeches, minnows, or nightcrawlers. Tie your hook directly to your line. Forget swivels, leaders, and quick-change snaps … you would be amazed at how many walleyes you'd spook with that terminal tackle! Walleye have eyes adapted to low-light feeding. Many fish are caught at night by trolling crankbaits along weedlines, rocky points, and over reefs. Some of the largest walleye are taken this way. In reviewing the dates of record catches, it has become apparent that more big fish are caught on the quarter phase of the moon. But without question, the full moon and the dark of the moon are the periods where walleye are most active, and successful counts are bigger.
Autumn Boundary Waters Walleye Fishng
In autumn, many walleye move deeper and gorge on forage fish, including ciscoes, smelt, and perch, which have grown in size over the summer. In general, a move to larger baits pays off in the fall. Trolling crankbaits is a great way to catch trophy-sized walleye. In clear water, use natural finishes on crankbaits, such as black, metallic gold, and silver. In stained water (such as the Kawishiwi River) brighter fire-tiger, chartreuse, oranges, reds, and bright greens work well.
One last note
If you are using a jig, or trolling with a minnow-like lure, get it down on the bottom! Walleye feed at about the 18-24 inch level. They hit soft, so wait on the hookset till you feel a good tug or run. With walleye, never use a wire leader. More on fishing Northern Pike, Smallmouth Bass, Trout, and Panfish