Boundary Waters Forest Fire Information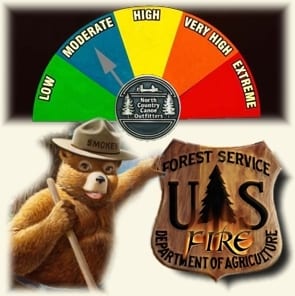 CURRENT BWCA FOREST FIRE RESTRICTIONS IN PLACE:
BWCAW Minnesota side: NONE
Canada's Quetico Provincial Park: NONE
In the BWCA forest fire is a natural part of the Boundary Waters ecosystem, and important for healthy forests. Until around 1970, federal land managers remained obsessed with controlling large fires. But during the 1960s, scientific research increasingly demonstrated the positive role fire played in forest ecology. This led in the early 1970s to a radical change in Forest Service policy—to let fires burn when and where appropriate. It began with allowing natural-caused fires to burn in designated wilderness areas. Letting fire burn inside the wilderness when possible is a keystone of wilderness management policy. It is in places like the BWCAW where such natural forces can be allowed to function. There are few places where that is still an option today.
Pagami Creek Wildfire
On August 18, 2011, a lightning strike approximately 13 miles east of Ely started the Pagami Creek forest fire inside the Boundary Waters Canoe Area Wilderness (BWCAW).  The fire smoldered in a bog for several days.  Like hundreds of other lightning fires, it produced barely enough smoke to indicate its existence.  Then a series of extraordinary and unusual conditions came together that caused the Pagami Creek Forest Fire to demonstrate unprecedented behavior and grow to historic proportions.
A total of 116 campsites in the BWCA Forest Fire Area were affected by the Pagami Creek Wildfire. Forest Service crews have worked with partners to rehabilitate campsites, trails and portages. While a few campsites remained closed for visitor use, most of the area affected by the fire has been re-opened to the public.
As seen in the map below, the fire area is only about 10% of the BWCA.