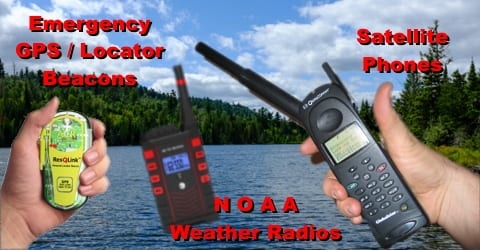 Emergency Electronics
In this day and age of feeling connected everywhere we go, the idea of travelling into a wilderness area where there is no cell phone coverage makes some feel a bit uneasy.  North Country has the solution to this problem by providing the following emergency electronic devices available for your canoe trip outfitting.  Some are included in the price of your outfitting package, some are available at an additional cost.
NOAA Weather Radios
NOAA Weather Radios are now included as part of all of our complete outfitting packages.  These radios receive nationwide network of Federal radio stations broadcasting continuous weather information directly from the National Weather Service office in  Duluth, Minnesota. This facility broadcasts official Weather Service warnings, watches, forecasts and other hazard information 24 hours a day, 7 days a week.   In addition, these radios also have AM and FM radio reception capability.
Rental:
W/ Partial Outfitting:
$1.50/day
W/ Complete Outfitting:
Included
Personal Emergency GPS / Locator Beacon Transmitters ("406" beacon)
The primary purpose of a distress radio beacon is to help rescuers find survivors within the so-called "golden day" (the first 24 hours following a traumatic event) during which the majority of survivors can usually be saved.  North Country's PLBs are not toys for sending pre-trip pre-recorded messages to the folks back home like "Caught the big fish" or "I'm OK."  These transmitters initiate Federal Rescue Response Procedures using Military Satellites – the same satellites used to locate downed airliners or ships in distress.
Limited inventory.  We strongly urge you to reserve your PLB in advance.
Rental:
W/ Partial Outfitting:
$10/day or $50/5-, 6-, or 7-day week.
W/ Complete Outfitting:
$8/day or $40/5-, 6-, or 7-day week.
Additional Emergency Locator Information
Why we chose the ResQLink (using the Government's Search and Rescue System) over S.P.O.T. Messenger and DeLorme InReach (corporate systems).
Globalstar Satellite Phone
Without the ability to communicate to the "outside world" from the remote areas that make the BWCA so special, many people are not comfortable with the idea of relying solely on their own survival skills in the event of an accident while on a canoe trip. Cell phone coverage ends almost immediately upon leaving our base or paddling from a remote landing.  Satellite phones have become an option for some paddlers who want that added "security feeling" while fully enjoying a trip into the remote areas of the Boundary Waters and Quetico Parks.
Limited inventory.  We strongly urge you to reserve in advance.
Rental:
$25/day or $125/5-, 6-, or 7-day week.